Centre for Medical Humanities, Durham University,
With Keynote Speaker PROF. CHRIS SHILLING (Kent University)
Durham University, Saturday 19th May 2012, 9.30 – 4.00pm
At Durham University, workshops have explored human sensory experience and engagement with the material world, audiences and corporeal displays and what it is to be human. Continuing this innovation and momentum, this workshop builds on the wider international debate on Body Theory and creates a multidisciplinary, environment for postgraduates and early career researchers to discuss crucial themes in the study of the body.
From human representation and mortuary activities to public and domestic spheres, the body in society is translated, manipulated and used in a range of material and metaphysical expressions. As such, the body is an essential research topic that transcends disciplines, timeframes and geographies. This workshop thus aims to bring together postgraduates from disciplines across the social sciences and discuss their material and theoretical approach to the study of the human body.
For the workshop, I will be delivering 'The Art of Illness: contemporary artists' search for a cure?'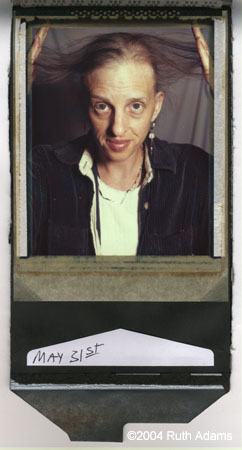 Ruth Adams, Unremarkable series

Hannah Wilkes, INTRA-VENUS series




As human beings, we are all susceptible to disease and the manifestation of illness, where one's story of ill health is narrated by language that cannot be quantified objectively. Throughout time, artists have exploited their expertise in fine art to exhibit their private affair with illness. I am interested in how these artists deliver corporeal and metaphysical displays of the human body in disease and illness.
The paper will explore the representation of illness by contemporary artists who, suffering in abject silence, turn to creativity

for tangible avenues of expression and to cope with the trauma of illness through art as 'therapy'. With illness as a form of deviance, the malady of the body becomes the stigmatisation of the person, and thus, the subject of social stigmatisation (Turner, 1996). Is it fair to assume the artists are condemned in the same way?
Established theories and philosophies on western society's response to illness will help determine responses to artwork exploring illness, including the study of abjection by French philosopher Julia Kristeva, and the metaphors of illness established by Susan Sontag.
I will also address contemporary artwork exploring the human condition with reference to bodily systems, organs, and mortality. Examining the diverse ways artists represent illness, it is important to consider how they reflect on what it means to be human, aside the symptoms of disease.
To acquaint oneself with artwork exhibiting illness extends beyond the nature of subjectivity and invites contemplation on what it feels to be human in western society.