LET BE
BE FINALE OF SEEM
A series of events presenting works about death and the way it structures life
University of Maryland School of Medicine, around 1893, "A thing-of-beauty-is-a-joy-for-ever." Taken from

DISSECTION Photographs of a Rite of Passage in American Medicine 1880–1930

by John Harley Warner and James M. Edmonson, Blast Books, 2009
  
Inspired by my days spent in Newcastle, Northumbria and Durham University anatomy labs, Death and Dissection will explore the conventions of dissection and cadaveric studies within academia, and how
both students and society alike, are spared from the body's unpleasantaries during modern anatomy dissection and funeral customs today. The elaborate preparation of our bodies enables us to separate from the totality of death more easily, and thus, distances us from the corporality of our fate.
The dissection of human cadavers for medical education has been practiced since the 14th century, when students would bear witness to the reality of bodily decomposition whilst acquiring knowledge of the anatomy. Today, dissection and cadaver studies are frequently seen as serving purposes of personal development in promoting humanistic values; providing an opportunity to introduce students to death in a controlled manner, especially in conjunction with education on death and dying.
Observations from the anatomy lab residencies will culminate in an exhibition of artworks inspired by cadaveric studies. They will address the moral issues associated with the practice of dissection, and how frequently academia sees the dissecting room as a step towards desensitisation. Sensually rendered, drawings will portray the cadavers in a more expressive manner, aside the direct portrayal of anatomy. This offers the audience a view into the anatomy lab through a sensual screen – one which would potentially immobilise symptoms of desensitisation.
Coinciding with the artworks, viewers are invited to engage with the practice of dissecting natural decaying material. Rotting fruit, vegetables and flowers – common symbols of richness and wealth in the Vanitas Still Life paintings, albeit in excessive quanities and of edible health – will be offered for active study and dissection to provoke contemplation of death and decay.
Sam Taylor Wood (2001) Still Life, video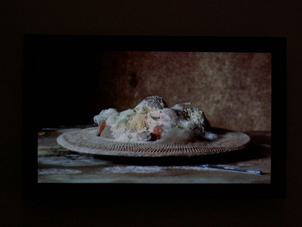 Sam Taylor Wood (2001) Still Life, video